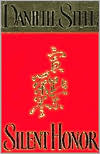 Silent Honor
by Danielle Steel is a historical romance novel that tells the story of Hiroko, a young Japanese girl who travels to America to go to school during World War II. Of course, once the Japanese bomb Pearl Harbor and things begin to get out of control in regards to Japanese Americans and visitors to America like her, she is unable to return home. This is the story of how Hiroko and her Japanese American family survive the Japanese internment camps and learn to deal with the horrors of war.
On top of the historical aspect of the story, there is, of course, a love story involved. Hiroko's love is a handsome American professor named Peter Jenkins who is able to see beyond the anger that is caused by the war between their countries and truly love shy and sweet Hiroko. The story goes from Japan to America and back again and is full of the romantic moments that Danielle Steel is well known for.
Overall, I found
Silent Honor
to be a rather good romance novel. Sexual scenes were not graphic but were written in a sweet yet sensual manner that many readers might enjoy. While some of the characters were rather cookie cutter and not very deep, they were still enjoyable to read about. In addition, the historical aspects of the novel really caused a lot of interest for me. I would definitely recommend this book to a reader who wanted a light and sweet historical romance novel that kept the sexuality to a tasteful level.
Book Information
Title:
Silent Honor
Author:
Danielle Steel
Publisher:
Dell, September 3, 1997, $24.95
Pages:
416
ISBN:
978-0440224051
Genre:
Romance