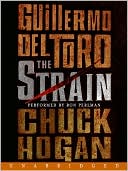 The Strain
begins with a mysterious occurrence. A large, Boeing 777 has landed safely at JFK International Airport but all power has died immediately upon that landing thus stranding the airplane on the runway. No one is able to contact the passengers on board and foul play is suspected. Enter Eph Goodweather, a worker for the CDC who runs the rather secretive Canary Project, an offshoot which works to control contagious disease and biological terror threats.
The story quickly turns from eerie to terrifying as all but four of the passengers on board are found dead and completely drained of blood. The mystery continues as autopsies are done and each of the dead passengers has a strange tiny cut located somewhere on their bodies. Although some form of a disease is still suspected, things begin to get strange when the four survivors of the mysterious occurrence on the plane begin to experience strange cravings for human blood while their bodies begin to evolve into something terrifying and strange.
Involved throughout the story is a man named Abraham Setrakian who has a connection to the monster who the reader comes to find has caused this terror. Things get even worse once (with the help of Abraham) Eph discovers that a vampire known as "The Master" has infected all of the passengers and turned them into a strange zombie/vampire hybrid that must do The Master's biding and change as many people as possible. Eph, Abraham, and a few others must try to fight against The Master and the minions he has created in order to save the world and the fight is clearly not going to be an easy one to win.
Overall, I enjoyed
The Strain
and found it to be quite a vivid and interesting take on vampires. After seeing the strange ways in which vampires have been portrayed in recent fiction, this is like a breath of fresh air in which the authors are not afraid to have incredibly violent and ancient vampires which are truly monstrous. I would recommend this novel to a horror reader who is not afraid of quite a bit of gore and violence but still loves an excellent story. This is truly a unique take on vampires and although I am not personally a big reader of horror, I will definitely be picking up the sequels to
The Strain
once they become available.
Book Information
Title:
The Strain
Authors:
Guillermo Del Toro and Chuck Hogan
Publisher:
William Morrow, June 2, 2009, $26.99
Pages:
416
ISBN:
978-0061558238
Genre:
Horror